Anyscan-30 Ultrasonic Flaw Detector with AWS function
Introduction
When ultrasonic waves transmit in test materials, acoustics properties will be effected due to flaws existing in the material, thus these properties can be used to demonstrate flaws within the material. According to this theory, by use of ultrasonic waves can detect flaws like crack, cavity, inclusion when test various media such as metal, non-metallic materials and composite materials.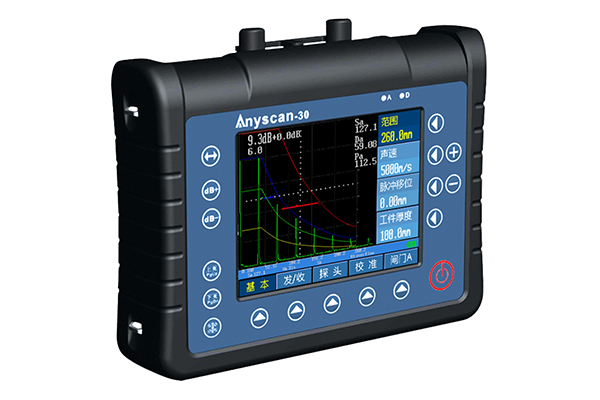 Digital ultrasonic flaw detector Anyscan-30 is a portable industrial non-destructive flaw detector, which can quickly and easily, without damage, accurate to a variety of work piece defects (cracks, inclusions, cavity, etc) of the detection, location, assessment and diagnosis. Both can be used in laboratories and project site.
Anyscan-30 is widely operated in the field of flaw detection and quality control, such as manufacturing industry, metallurgy of iron steel , metal processing industry, chemical lines , as well as operated in in-service safe inspection and life appraisal, such as aerospace, railway transportation, boiler and pressure vessel safety check in service and life assessment.
Anyscan-30 is a high-tech instrument which launched by Guangzhou Doppler Electronic Technology Co., Ltd in end of 2009. Full consideration of ergonomic made for instrument's appearance, its structure is strong and light, easy and comfort to take, as well as shockproof. Scientific and rational setting of keystroke and menu, common features can be simply operated for more efficiency and less labor intensity. Instrument complies with European standard EN12668-1, has more advantages like high performance, stability, functional and practical, reliable quality, anti-interference ability and so on, also in full compliance with most industry standards, high praise for it both from domestic and abroad, after the software version upgrade to Ver1.10 it become more convenient for operation.
Anyscan-30 is equipped with imported lithium batteries, no memory effect, with high capacity, batteries service time can up to more than 8 hours, it is priority choice for testing operations especially for field work.
Character
Leading technical target, abundant applied assistant function
Intelligible setting of keys and menu, easy to operate
400 MHz real-time hardware sampling, high-fidelity echo pulse
Broadband and amplifying circuit with low noise, selectable damping, excellent matching with low or high frequency probe
Excellent EMI design,good EMC performance
5.7〞high resolution color LCD display
Function
(1) DAC Making, Storing and Recalling Function
(a) Making easily
When sampling dots one by one, it will automatically draw four lines such as "Assess Line", "RATINE Line", "GENERATRIX Line" and "Void Line".
(b) Compiling conveniently
It can automatically modify each sampling dot and adjust the curve offset(to fit all kinds of standards).
(2) AVG Making, Storing and Recalling Function
(a) Making easily
It can draw curve by sampling one dot in ">3N" area automatically, or by sampling dots one by one in "<3N" area, which ensures the practicality.
(b) Applying conveniently
It can automatically adjust the curve equivalent and calculate the flaw equivalent sizeΦautomatically.
(3) RF Displaying Function
It can display the real original waveform, which is convenient for the user to analyze the details of the echo and help to analyze the flaw qualitatively.
(4) Curve Surface Amending Function
It can amend the test result of the arc surface automatically.
(5) Peak Holding Function
Assist to record the maximum echo.
(6) Envelope Function
Record the changing profile of the echo.
(7) Automatically Testing Echo Spectrum Function
It is used to test the center frequency and its spectral characteristics of the probe echo.
(8) Auto Gain Adjusting Function
The adjustable Auto Gain can be used to set echo amplitude conveniently.
(9) Weld Graph Displaying Function
The graph displaying is intuitional, which makes the flaw position legible. The graphs can be stored in the flaw detection report, which is convenient to be replayed and printed.
(10) Intelligent Calibrating Procedures
It is used to calibrate the material sound velocity rapidly, measure the probe delay automatically, calibrate the refraction angleβautomatically, and calibrate the probe easily.
(11) Setting Quick Channels Function
It has 30 quick channels which can store 30 groups of detect parameters in all, which makes the storing and recalling easily.
(12) Automatically Generating Reports Function
It generates detection reports based on detecting parameters and data automatically. The detection reports contain detailed detecting parameters, waveform graphs and detailed echo data, which can be directly printed by the connected printer or stored in the computer.
(13) Continuously Storing and Replaying Function
It can record the dynamic waveform while detecting, which makes the recorded data more detailed. The menu settings are analogous to the video function, which is easy to be understood and operated. The stored documents can be re-stored to the U disk or other storage devices directly at any time.
(14) Waveform Display Area Zoom Function
The waveform display area can be zoomed in to full screen, which can efficiently prevent misuse in field testing.
(15) Gate Area Zoom-in Function
The Gate area can be zoomed in to the whole display area, which is convenient to observe the waveform details.
Performance
Horizontal Linearity Error
≤0.1%
Vertical Linearity Error
≤3%
Surplus Sensitivity
≥62dB
Dynamic Range
≥40dB
Electronic Noise Level
≤20%
Far-field Resolution
≥30dB
working Mode
Single-probe or Dual-probes
Transmit Pulse
400V negative spikes
Operating Frequency Range
0.5MHz~20MHz, frequency subsection option, match probes well
Detection Range
0.5mm~9999mm ( steel; longitudinal wave), adjustable continuously, switchable steps
PRF
range≤125mm: 1KHz;
125mm<range≤1400mm: 250Hz;
1400mm<range≤9999mm: 40Hz
Sampling Rate
400MHz hardware real-time sampling
Velocity
1000m/s~15000m/s, adjustable continuously, switchable steps
Display Delay
-10mm~1000mm, adjustable continuously, switchable steps
Probe Delay
0μs~199.9μs
Damping
50Ω, 100Ω, 200Ω, 500Ω
Gain Adjustment
0dB~110dB, step by 0.0/0.1/0.5/1.0/2.0/6.0dB
Rectification Mode
Full wave / Positive half-wave / Negative half-wave / RF
Display Screen
5.7" high brightness TFT color LCD screen, 640×480 pixels
Measurement Mode
flank or peak
Store
store commonly-used detection parameters and test result data
Alarm
Hardware alarm, sound and light two methods, alarm models including positive mode, negative mode and DAC mode
Communication Interfaces
USB, Ethernet
Operating Temperature
-10~+50℃
Battery
Lithium battery (10.8V 5200mAh), supplying power continuously for more than 6 hours
Power Supply
AC: 100-240V; DC: 15V/4A
Weight
about 1.4Kg (including battery)
Language
Chinese / English
Waterproof Level
IP54 standards